Live In Australia
Copy: Emma Kjaer
Art Direction:
Joy Boykin
&
Tyler Pena
Welcome to the land of vast and vista. Where the sky's endlessness can only be limited by your mind.
Here there is no pursuit, only happiness.
Every day is a dream away from the minutiae. Trees grow a little taller, life moves a little slower, and a stranger is a mate you haven't met yet.
So, what are you waiting for?
Move on down here, where it's a
G'day Everyday
.
The happiest continent on earth needed an even happier logo…so we made one.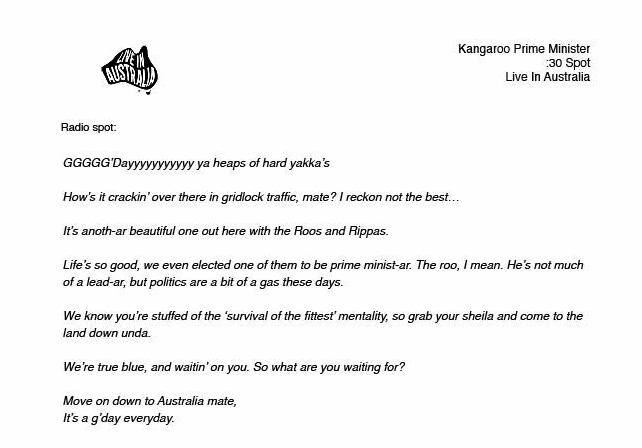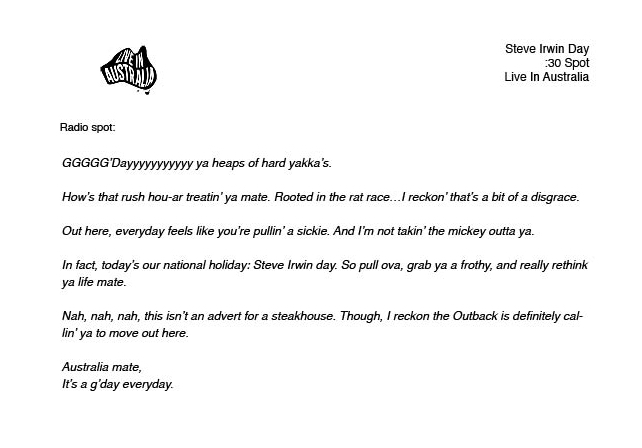 FOMO No Mo - Radio


Hosted by bubbly, engaging and undeniably Australian talent, the strategic media placed during American rush hour traffic, will appear as broadcasts from the bush.
Packaged Aussie Air

A chance to get a taste of the good life.
(Concentrated oxygen naturally boosts your mood and gives a euphoric feeling at first inhale.)

The Joey Jar

Similar to the concept of the swear jar, the Joey Jar is where you'll deposit cash, change, and your frustration for your current situation. It's a passive investment in the dream for a newer, happier, more sustainable life. Break only when you reach your breaking point.

G'day Everyday